All of us have been there.  Surprise! A 5-day hunting trip sprung on you by your spouse, days before three planned parent teacher conferences and two dentists appointments. All set to happen the same week.  Were you also told 'I told you about this, remember'?  Yeah, me too.  A big line of bull no doubt.    I would like to say now that I have started hunting this no longer happens or that I understand how things can get planned on the fly, but my Type A personality still calls BULLSHIT!   But hey, I get it.  I too forget to tell my husband about planned events.  Are they a trip out of town? No, but still.  Shit happens.
Instead of dwelling on the fact this may still happen from time to time, I thought it would be better to get on the same page with my husband, so this happens less.  Or never again  LOL.   In the past, I have tried shared calendars on our smartphones, planners for him, planners for me.  But we were never in sync.  I have discovered Ryan HATES 'planning' even when it involves hunting.  He did come to realize (or is just pacifying me) that now with both of us hunting, we have no choice but to start planning.
I decided to download 12-monthly calendars with room on each one to make notes.  I chose this because they would fit on the closet doors in my office, but also will work for those without a dedicated office, as they would fit neatly in a 3-ring binder.  Plus, they were free, and I was too lazy to drive to the store and buy one.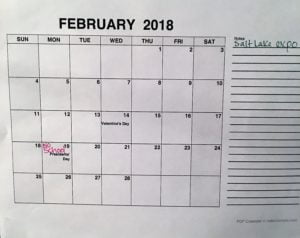 Now, this is what I did.  You may choose to do this in a different order, or not at all, and that is OK. This is what works  can for me, and if it works for you, that's great!
Step 1.
Print out 12 months of calendars
Step 2.
Fill in all family events that you can think of.  I looked back through my old planner to get all the events of the previous year. If the date of an event changes dates each year, just put it in the margin for a 'placeholder'
Step 3.
Fill in your children's school schedule.  Days off, holidays, vacation, etc.  This should be posted on their school website a year in advance.  Obviously, if they are bigger, it's not as much of an issue as it is if they would have to attend daycare when not in school.
Step 4.
If you have a work schedule that varies, fill that in.
Step 5.
Fill in the dates of the planned hunts.  Trust me, even if the tags just got posted, they already have plans with dates of each tag they may draw.  If you hunt, they most likely have your hunts planned out too!
Tips:
-I recommend that this yearly calendar meeting happens BEFORE he puts in his tags, but if that doesn't work out, it can still happen after the draws come out.
– I insist I am the only one allowed to write on the calendar.  I'm not saying he would, or he wouldn't try to sneak in an event, but he would.
-To make things easier to separate, I used different colors for different events:
Pink: for family events, reunions, etc.

Blue: for hunting trips and Avery Adventure stuff

Green: for Rokslide stuff

Purple: work schedule
-While you are on the subject, and he is your captive audience you can also fill out a 'hunter safety sheet'
'Official' Avery Adventures Master Hunting Plan: Click HERE for a printable Pdf.
This is a really good reference for you and other family members if you guys are both on the hunt. I know I always feel better when I can leave this with the family members keeping my children while we are gone.  I also always write our physician, dentist, and insurance info on the back of the hunter safety sheet in case one of the kids get hurt.  I know, it's probably over-kill, but I have a much better hunt if I know all of this is taken care of:)   I also found this one, that is also good:
If you are a smart hunting widow, you probably are already doing this, or maybe have other helpful tips?  Please share in the comment section below!
Printables: